Our Masala Chai is the perfect blend of Fall & Winter flavors – 100% organic & caffeine-free, made from ceylon cinnamon, ginger, cardamom, nutmeg, clove, and hint of black pepper.
It'll be your superpower as our chai literally goes with nearly all fall dishes. Sprinkle it over fruits, coffee, make a latte, bake & cook with it, and even use it in a stove-top potpourri.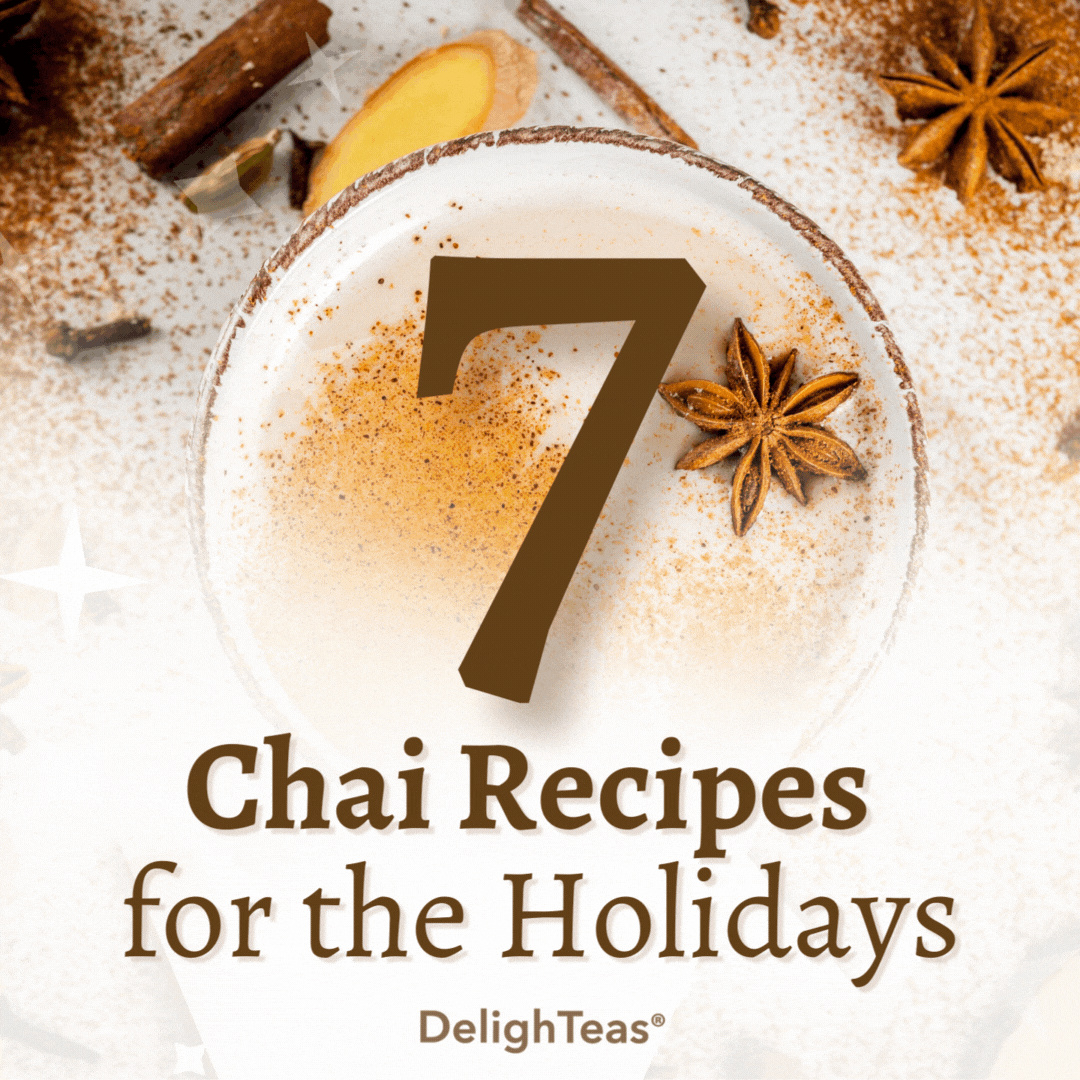 Here are 7 inspiring ways to bring a burst of flavor and well-being to your holiday dishes:
1. No-Bake, Done-For-You Mini Cookies & Latte Short on time for the holidays? Work smarter, not harder. We've got you covered with our new Carob Chai Bites – gluten-free, vegan mini cookies made with our signature Masala Chai Blend.
Pair it with a Chai Latte, and you've got all the Holiday Vibes you need!
Chai Latte Recipe: Add 1/2 tsp. of Masala Chai blend into a blender with 1 cup milk of choice, and 1 Medjool date. Blend until smooth. Heat over medium heat, pour into a cup, sprinkle with cinnamon, and enjoy! Watch Video
2. Chai Spiced Pear Pie Is it really Thanksgiving without pie?! Here's a delicious dessert that will spice up your get-together with friends and family.
3. Chai Spiced Apple Cider We were inspired by one of our customers for this recipe. It requires a juicer, although you could also make it with apple juice rather than fresh apples.
4. Banana Chai Mini Muffins
These delicious little bites are gluten-free, vegan, have no refined sugar, and feature our best-selling Masala Chai blend. A fan-favorite.
5. Vegan Masala Chai Pancakes A Thanksgiving breakfast idea that will get your morning going with so much gratitude! Top the pancakes for your unique dosha – ideas included in the recipe.
6. Vanilla Chai Banana Smoothie Your smoothies should change with the seasons. Place in a blender 2 bananas (option to use frozen), 1 Tbsp. almond butter, 1/2 tsp. vanilla extract, 1 Tbsp. hemp seeds (or other boosters), 1 Medjool date, 1/2 tsp. Masala Chai blend, and 1 cup milk of choice (add more if needed). Blend on high speed, pour in a cup, and sprinkle with cinnamon. 🤎
7. Carrot Chai Mini Muffins A great snack, an easy breakfast, a tasty afternoon treat, and SO easy to make and grab-and-go. Also wonderful if you're traveling for the holidays, as these ingredients help ground the body-mind-soul and remove excess Vata (movement) energy.
BONUS: Make stovetop potpourri. Fill your home with a lovely Chai aroma for the holidays. Pour 4-6 cups of water into a medium saucepan. Add sliced oranges, apples, and or cranberries, a sprig of rosemary, and 1 tsp. Masala Chai blend.
Bring to a light simmer over low heat. Simmer for hours on low heat–just check the water level since it will evaporate over time, adding more as needed.
Share your Chai recipe @ainutreats